Thomas Wolle Reflects on Boston Marathon 10 Years Later
Thomas Wolle Reflects on Boston Marathon 10 Years Later
Attorney Thomas Wolle shares his experiences competing in the Boston Marathon 10 years ago.
It was an ideal day to run a marathon on April 15, 2013, with cool, sunny weather and little wind.
The streets would soon be filled with the 23,000 athletes who were running the Boston Marathon, along with at least 10x that many spectators who line the streets annually to cheer on the runners and celebrate Patriots' Day – the third Monday of April – which commemorates the first two battles (Lexington and Concord) of the American Revolutionary War.
SPMB Member Thomas Wolle flew to Boston with two friends to run the 26.2-mile course before indulging in the local tastes and sounds thereafter. Wolle also had plans to visit the Harvard University campus to honor his alumnus father, and the Curious George book store at Harvard Square to buy a gift for his youngest daughter.
The day began with an early morning bus trip to the town of Hopkinton, where the race would begin in multiple waves assigned based on each runner's qualifying time.
Wolle milled around and chatted with fellow runners, and suddenly realized that the wave he was assigned to had already begun the race.
He hustled to catch up, pushing his pace aggressively for the first 10 miles before finding his rhythm to finish the marathon in just under 3 hours and 24 minutes. Wolle didn't set a personal record that day, but it was one of the most enjoyable races he'd ever run in the six or seven years since he took up distance running.
"It was the best marathon experience I'd ever had. I didn't set a PR, but I just really enjoyed it the entire time. Running up Heartbreak Hill, passing a slew of women from Wellesley College who were cheering us on and kissing runners as they passed, the celebratory atmosphere of Patriots' Day, all of it was amazing," Wolle said.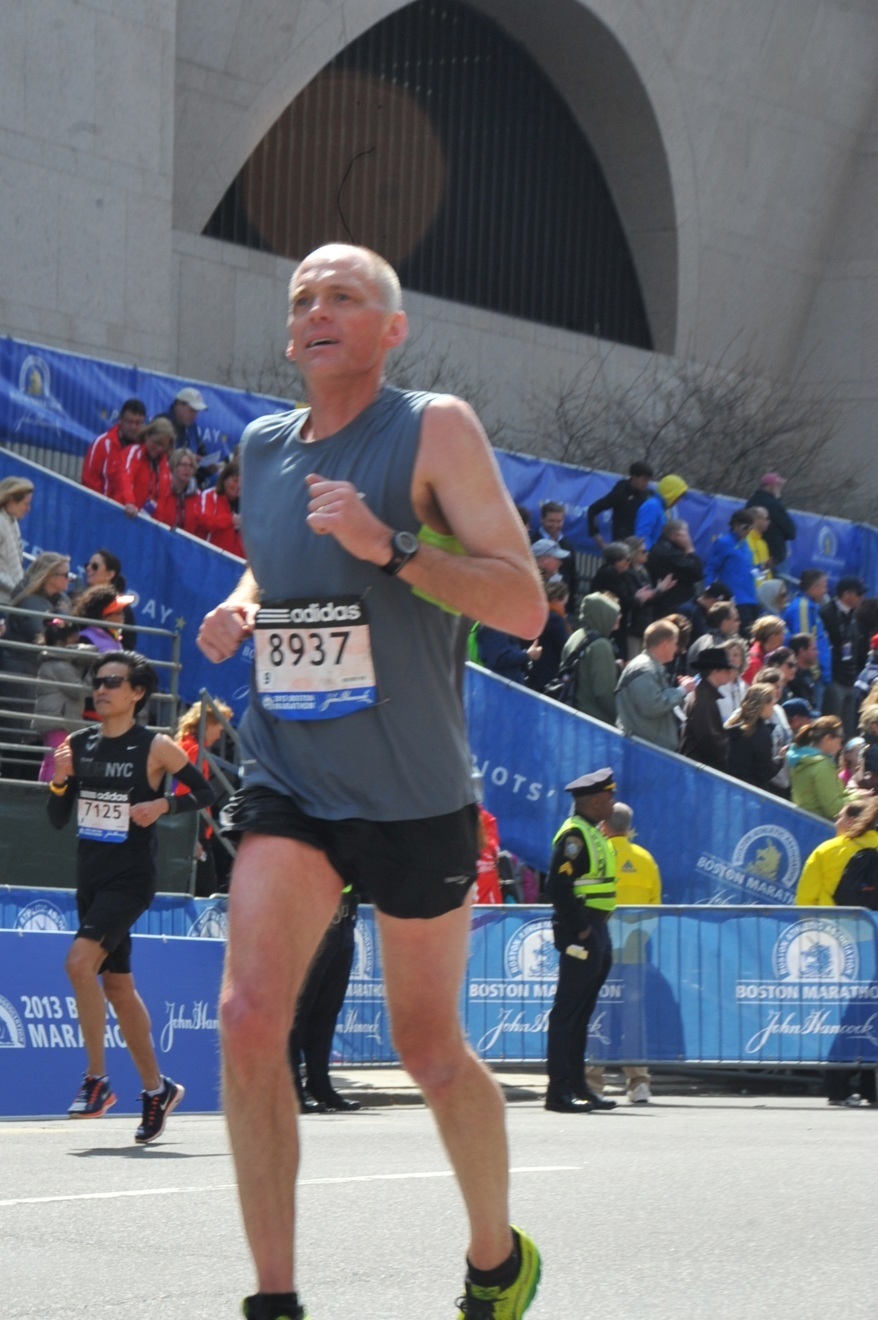 ---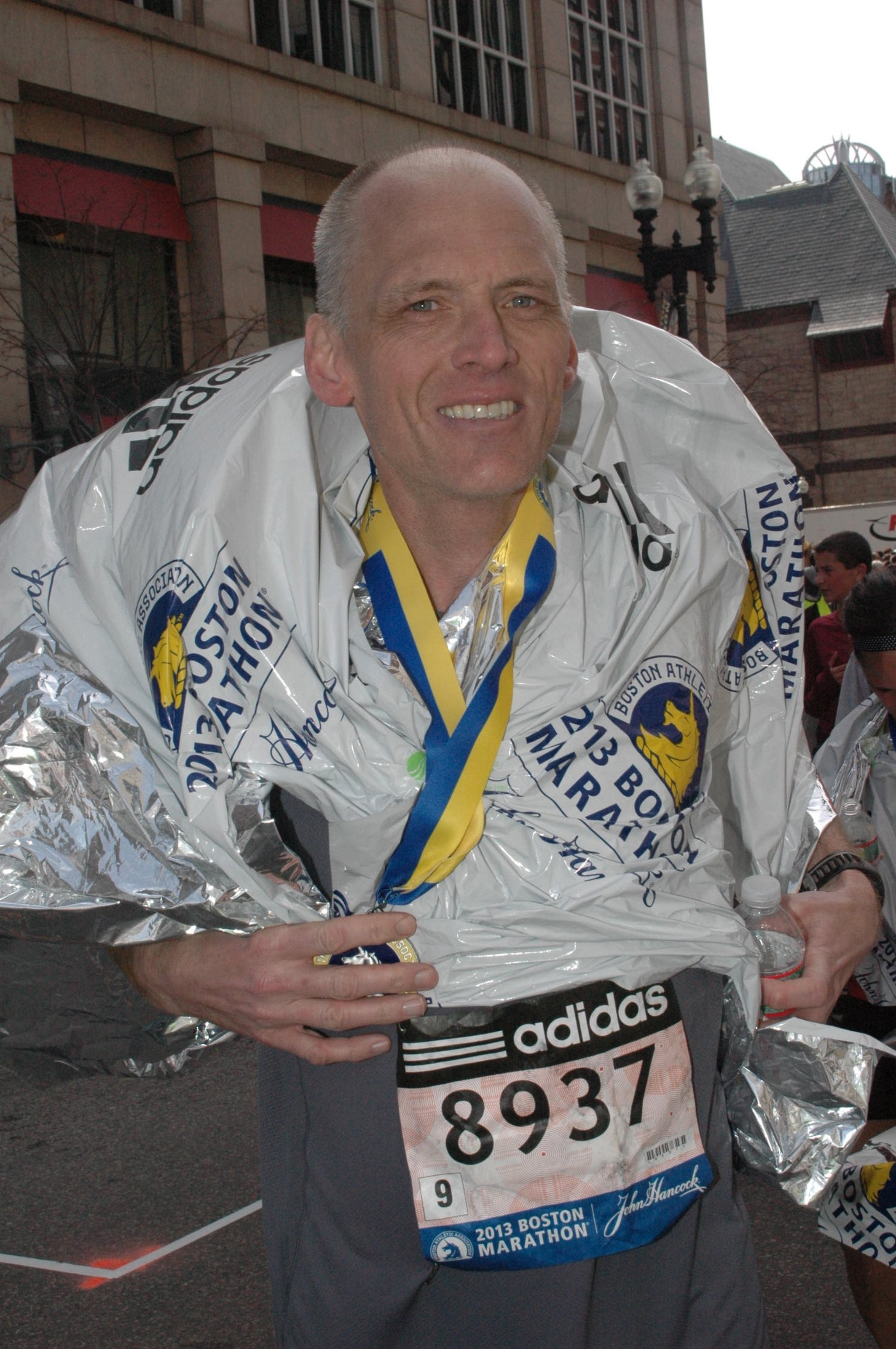 Thomas Wolle competing in the Boston marathon 10 years ago.
About an hour after crossing the finish line, Wolle was cheering on other runners and waiting to meet up with his friends for afternoon libations and dinner. He was standing just a few blocks from the finish line when he heard a loud boom.For a second, Wolle thought it was a cannon or fireworks related to Patriots' Day. Then he saw a large cloud of smoke, heard people screaming, and saw throngs of people running away from the finish line area.
He turned and fled too.
Three people died that day and hundreds were injured by homemade pressure cooker bombs created by radicalized brothers.
Wolle was suddenly witnessing one of the worst terrorist attacks on American soil.
"I was trying to get out of the area, but there were gates everywhere for the race. I hopped over a couple gates and started walking away from downtown," Wolle said.
He'd left his mobile phone behind so he wouldn't have to carry things during the race or risk losing it in checked bags, so he didn't have a way to reach his family to let them know he was OK. A stranger kindly offered to let him use their phone, and Wolle tried unsuccessfully to reach his wife, Susan. The massive amount of calls being placed overwhelmed mobile phone networks.
Wolle eventually reached his administrative assistant, Deanna, who called Susan to let her know she'd spoken with Thomas and he was safe from harm.
The rest of the trip was something of a blur. Wolle remembers walking around the Harvard campus that evening, just before the city announced a lock-down for the ensuing man-hunt of the bombers. He and his friends drank a few beers and had dinner that night, and watched the news coverage.
"The magnitude of what happened sank in that night. I still have mixed emotions about it. It started as a very special day for me, a great race, a really good time, very festive. But at the same time, this was a horrific event for so many people. Three people died and dozens of others lost limbs and their lives were forever changed," Wolle said.
Wolle recalls airport security being extremely heavy as security agents questioned passengers about whether they saw anything at the race or had photos or other information that might be helpful in locating the suspects.
Wolle ran three more marathons in 2013, and the Chicago Marathon in 2014, before deciding to pivot away from running and back to tennis, which he'd played competitively in college and in early adulthood.
"I sort of gave up tennis for a while when my daughters were young because it takes a lot more time and effort to find a partner, arrange a time to play, get to a court, and play a match than it does to just slip on a pair of shorts and shoes and run," he said. "As our girls got older and more independent, it was nice to pick up tennis again."
In recent weeks, Wolle has read some news coverage of the 10-year anniversary and it reminded him that time is fleeting. When the bombing occurred, his youngest daughter had recently started elementary school — now she's 16. His older two daughters have now graduated from college and are both in law school – one at University of Iowa and one at University of Wisconsin.
"Ten years seems like a really long time ago, but in other ways like it was just the other day," said Wolle, who focuses his practice on employment litigation, workers' compensation, and representing school teachers and administrators. Wolle joined Moyer Bergman in the late 1990s, and has been with the merged firm Simmons Perrine Moyer Bergman ever since.
Reflecting back on the bombing, Wolle says the enormous outpouring of support for victims helped everyone — himself included — process their grief and trauma.
Numerous companies and individuals worked together to create and donate to One Fund Boston, which raised and distributed $80 million to victims. Networks of local, state, and federal organizations offered counseling, medical treatment, physical therapy, occupational therapy, and other resources to people impacted by the bombing.
"It reminds me of how Cedar Rapids rallied from the flood and derecho. The response by the Boston community and the community at large to support the recovery process was remarkable," said Wolle.
---