Beginning in 1916
A Walk Through Time
The rich history of Simmons Perrine Moyer Bergman PLC dates back a century when James H. Trewin joined forces with his son, Harold R. Trewin and Haven Y. Simmons in 1916. Twenty-five years later, Beahl T. Perrine and Justin W. Albright joined the three-person law firm. Beahl Perrine was a central figure for what would become Simmons, Perrine, Albright & Ellwood. He helped grow the firm to be the largest in Cedar Rapids, Iowa while practicing law for 52 years before his death in 1989. Mr. Perrine and his wife, Irene, were also very active in the community, most notably for helping to incorporate The Hall-Perrine Foundation.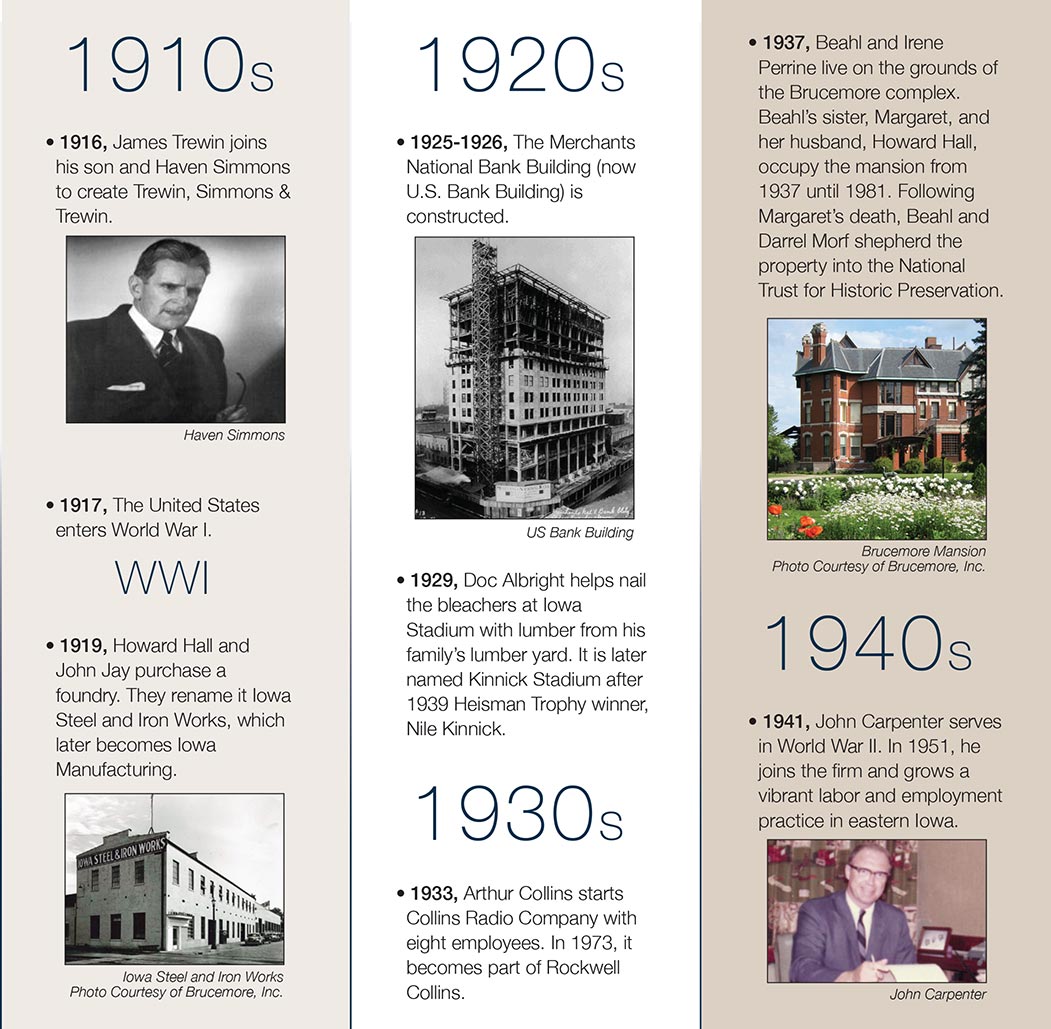 ---
Moyer & Bergman
Moyer & Bergman was founded in Cedar Rapids, Iowa in 1961 by Clinton Moyer and William Bergman. The two-person firm quickly grew to be a full-service law firm with 21 attorneys handling some of the most complex matters. One such matter was the 1970 inception of Keystone Resort, located in Summit County, Colorado. Mr. Bergman, together with long time Summit County resident Max Dercum, is credited with co-founding what has now become an internationally recognized high mountain skiing, recreational and convention resort. Moyer & Bergman attorneys provided all the major legal services to the resort's creators. Keystone Resort was strongly considered for the Alpine events in the 1976 Olympics and could potentially be in contention for future Olympics.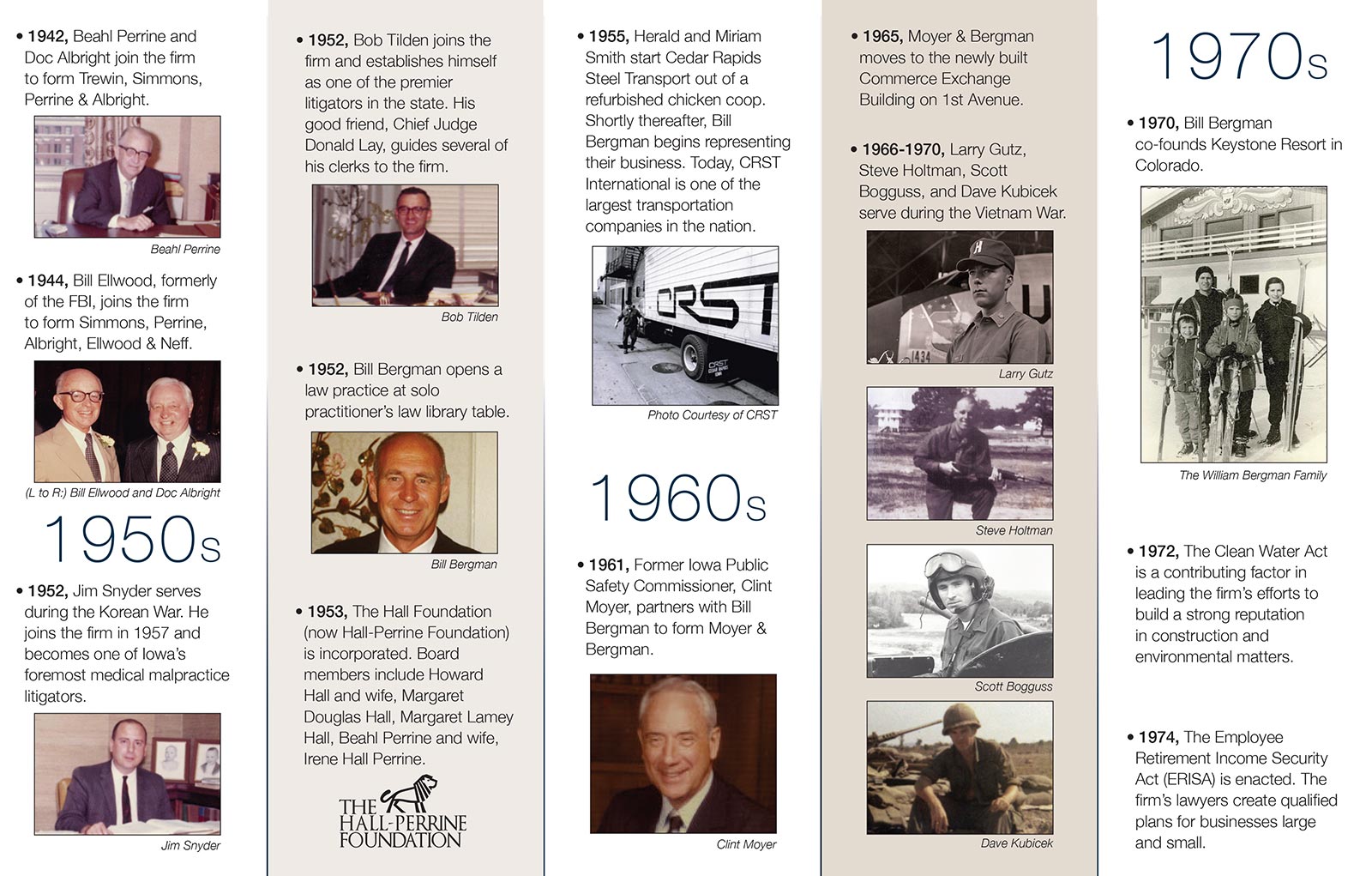 ---
Simmons Perrine Moyer Bergman PLC
As specialization within the practice of law became more relevant, it only seemed natural to combine the two law firms who were well established in their own rights. In January of 2009, the firms became one - Simmons Perrine Moyer Bergman PLC. At the time of the merger, 52 attorneys were based in the U.S. Bank building and an additional eight attorneys were located in an Iowa City location. The firms have now successfully grown as one and is currently one of the largest law firms in Iowa.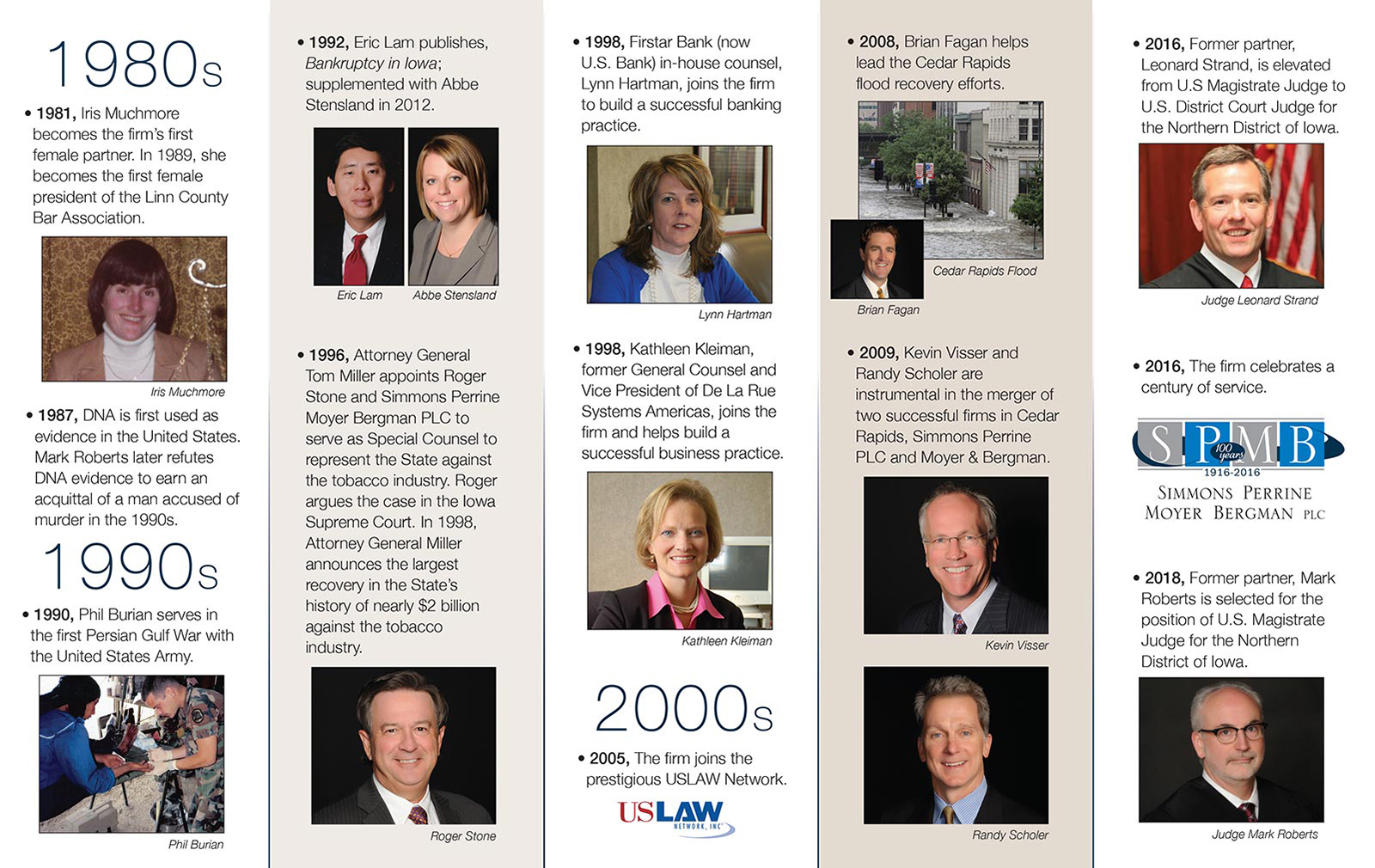 ---