Morf and AbouAssaly Recognized at Linn County Bar Association Event
Morf and AbouAssaly Recognized at Linn County Bar Association Event
The Linn County Bar Association's (LCBA) 2019 Bench-Bar event was held at the Cedar Rapids Museum of Art, Carnegie Library on January 24. Attorneys Darrel Morf and Nicholas AbouAssaly of Simmons Perrine Moyer Bergman PLC were recognized at the annual meeting.
Darrel Morf was honored for sustaining a 50-year membership with the LCBA. He has been with SPMB since 1970 where he has built a successful practice focusing on wills, trusts, estate planning and probate law. Mr. Morf is a Fellow of the American College of Trust and Estate Counsel and is also a long-standing member of the Iowa State Bar Association where he has served in many capacities. Philanthropy is an important part of Mr. Morf's life, most recently co-chairing the 2018-2019 United Way Campaign of East Central Iowa and serving on the board of directors for Mercy Medical Center and Mercy Medical Center foundation, Jared & Carol Hills Foundation, Hall-Perrine Foundation, Herbert Hoover Presidential Association and the American Baptist Churches, U.S.A. Pension Board.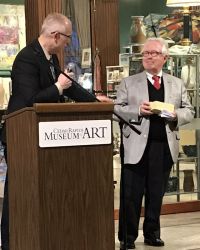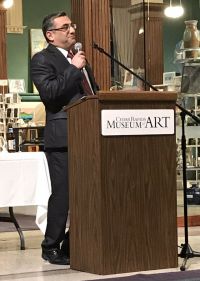 Nick AbouAssaly was the recipient of the LCBA 7th Annual Citizenship Award. The Citizenship Award is granted to a deserving member of the LCBA in recognition of meaningful contributions to the community. Since joining SPMB 22 years ago, Mr. AbouAssaly has focused on real estate law. At the same time, he has been an active community leader, particularly in the City of Marion where he has served on numerous boards and committees, and is currently serving as Mayor of the City of Marion. Mr. AbouAssaly is also listed in Great Plains Super Lawyers and The Best Lawyers in America® and was named Best Lawyers® 2019 "Lawyer of the Year" in Cedar Rapids for Land Use and Zoning Law. He is a member of Cedar Rapids Rotary Club and Music Director at St. George Orthodox Christian Church. Mr. AbouAssaly's impact in the community, combined with his unwavering commitment to his clients and the Corridor are just a few of the reasons he was recognized for the LCBA Citizenship Award.