Chris Loftus Makes CBJ Forty Under 40 List
Chris Loftus Makes CBJ Forty Under 40 List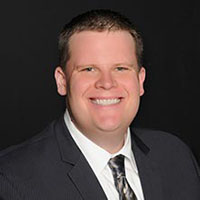 Attorney Chris Loftus will be honored at the Corridor Business Journal's (CBJ) Forty Under 40 reception on Thursday, Oct. 17. The CBJ will be recognizing forty young leaders who have made a significant impact in their business and community. More than 100 nominations are taken annually, with the final 40 selected by a committee of previous honorees.
Chris joined Simmons Perrine Moyer Bergman PLC in 2013. He has since established himself as a highly respected attorney in the firm's banking and finance practice and was invited to join the partnership in 2016. Chris lives in Coralville with his wife, Britta, and their twin girls, Claire and Zoey. Chris has used his kind personality and selfless attitude to make a huge impact on many organizations in the Corridor.
Congratulations, Chris! Well deserved.
To register for the CBJ Forty under 40 reception, click here.