SPMB's Cheyrl Hines to Retire as Office Administrator after 32 Years
SPMB's Cheyrl Hines to Retire as Office Administrator after 32 Years
Cheyrl Hines has been an integral part of Simmons Perrine Moyer Bergman PLC since 1990. Before she steps into her new role as "retiree," we sat down with her to reminisce about the 32-year road she helped pave for the firm.
At the dawn of her career, Cheyrl Hines was working as a Certified Public Accountant at McGladrey on the 9th floor of the US Bank building in downtown Cedar Rapids, and juggling a full roster of client work and raising young children.
While coming and going from meetings, she would often chat with friends she'd made at an insurance defense law firm a couple floors higher called Simmons, Perrine, Albright & Ellwood.
Little did she know that she would spend the next 32 years of her career helping that firm expand its practice, hire new attorneys, overhaul its technology, and complete a transformative merger.
Cheyrl would also help the firm not only survive but thrive during disasters such as a historic flood, a derecho, and a global pandemic.
For more than three decades, Cheyrl came to work each morning knowing that new and unexpected challenges would be thrown her way — and that the firm's leadership had complete faith and trust that she could sort it out and solve it.
Her humble upbringing in southern Illinois taught her to be frugal and use all available resources, have grit and determination, and find solutions even when none seem apparent.
"You come into work and you have a plan, but you never know what you're actually going to do because surprises happen. You have to figure things out and make do with what you have," Cheyrl said.
32 YEARS OF SERVICE
On the eve of her retirement after 32 years of service, Cheyrl reflects on a a career that dates back to the days of typewriters, fax machines, landline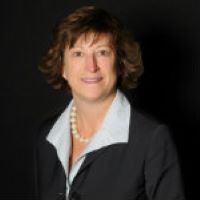 ---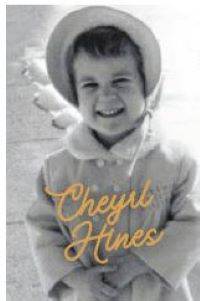 ---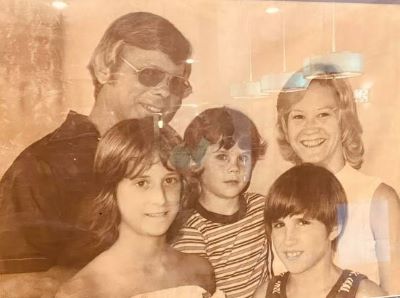 David and Helen with children,
Cheyrl, Tom and Benjamin.
phones, and in-person court filings. She coached and trained attorneys and their support staff to embrace, excel and hopefully enjoy their assigned tasks. As a mother of four, Cheyrl says the best part of her job is helping others succeed.
When she first joined the firm, Cheyrl would walk around and personally hand out payroll checks to employees and partners. It was a great opportunity to get some one-on-one time with each of them. After her son Joe was born, she came back to work a few weeks later and simply brought the baby with her for about a month and a half before sending him to a sitter. Attorneys and paralegals would ask to hold the sleeping baby while Cheyrl made the rounds.
THE FLOOD OF 2008
In the early days of June of 2008, Cheyrl and the rest of the firm's leadership watched with concern as more than 10 dry square miles of Cedar Rapids was impacted by flood water.
A couple blocks away from the US Bank building, the Cedar River kept rising and rising. Cheyrl began lobbying to take computers and essential paperwork to the Coralville office in Johnson County.
"At first they said 'Nah, don't worry about it.' About four o'clock, the board told me 'Yeah, we can evacuate and take everything down to Johnson County," Cheyrl recalls.
Working with an IT support firm, Cheyrl loaded all the firm's servers into a car and drove them to her house in Mount Vernon. The next morning, she met the IT vendor at the Johnson County office and set up an entire server network for the firm to use. Before she could get back home, a major bridge flooded and she had to drive almost all the way to the Quad Cities to find a bridge to cross and get home.
That weekend, they realized the Johnson County office was going to flood too. Cheyrl did what she does best: triage and problem solving.
First she helped negotiate with the Mount Vernon school district to use the middle school for temporary office space — it was summer, and she knew the school would be empty for a couple months.
She oversaw the IT firm to once again set up the network servers, phone lines, computers and other essential equipment. When she couldn't find a copy machine, she called around until she found a friend who could loan one to the firm.

Then she activated the firm's phone chain to alert attorneys and support staff to the new plan. Bring a suitcase with wheels to transport essential files, she told them.
---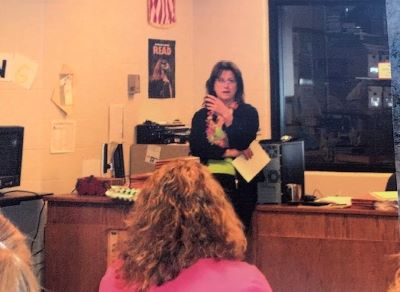 ---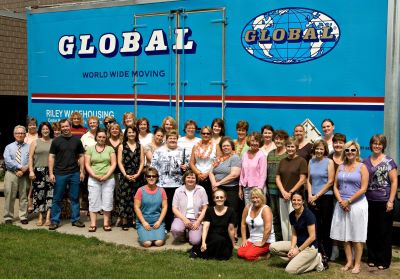 The Flood of 2008: Cheyrl rallying the staff
and moving day memories.
She called another friend who owned a moving company and arranged to have a moving truck stationed at the firm's downtown office to transport those suitcases of files to Johnson County.
Back at the middle school, she organized practice groups into classrooms that still had student artwork, life-size skeletons and math posters on the walls.
"You could not believe how we all came together during the flood. We had so much energy and we were all in this together," she said. "I was so proud of everyone."
After about six weeks, they were able to get back into the US Bank building but the power hadn't been restored yet and they had to rely on generators for essentials such as servers. They couldn't use coffee pots or turn on the lights because they consumed too much electricity.
A Transformative Merger
By then, the merger talks with Moyer & Bergman were well underway, and the newfound energy and esprit de corps from the flood seemed to propel the firms toward consummation.
Cheyrl tapped into her background as a CPA and her degree from Northeast Missouri State University (now Truman State University) as she planned for and executed a merger of all major IT systems including a manual migration of accounting and billing data.
She assigned mentors for the Moyer & Bergman staff to help them get acclimated, and insisted that people use all four names of the newly merged firm as a show of solidarity and belonging.
"We had recently been through the flood so we knew how they felt being dislocated, and we just wrapped our arms around them and made them feel welcome and part of us," Cheyrl said. "We always said all four names: Simmons Perrine Moyer Bergman."
COVID and a Derecho
In early 2020 as news reports of a deadly new coronavirus began making headlines, the firm's leadership began planning again for a possible disruption. At the time, they had no idea it would turn into an extended shutdown with lasting changes on how — and where — people work.
"We knew how to evacuate, but we knew this would be a lot different than a flood. This was pretty organized and orderly," Cheyrl said.
The hardest part about COVID was the mental and emotional drain on employees and their families, she said.
"Some people weren't doing well working from home, so we had to figure out how to accommodate that. Keeping people apart, the isolation, the stress. There's a mental toll, and it lingers," Cheyrl said.
A few months into the pandemic, a powerful derecho with extremely high winds swept through the Midwest, flattening corn fields and spinning off numerous tornadoes. Cheyrl was working remotely, and Roger Stone called her to say something strange was happening with their computers and phones.
Cheyrl looked outside toward her balcony, and saw birds flying backward in the high winds.
"I told people to get to the basement as quickly as possible," she said.
The storm blew out three windows and the firm lost electricity for a few days. Cheyrl and her team were on the cusp of evacuating to the Johnson County office again when the power was restored.
"We dusted off the phone chain again," Cheyrl said with a chuckle.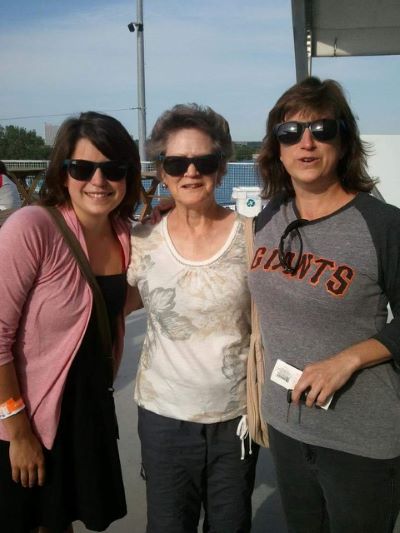 ---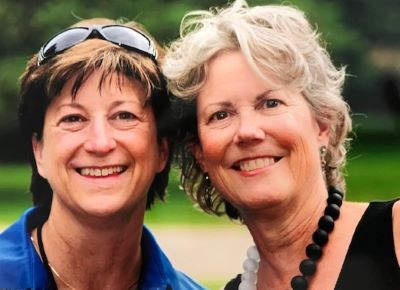 ---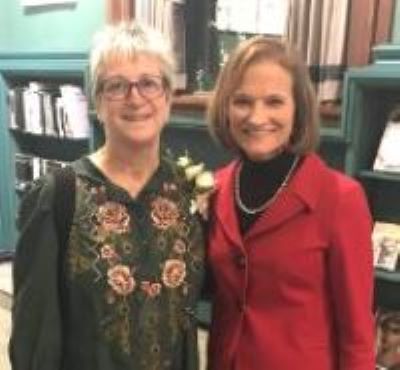 Fun memories with family and friends through the years.
The Next Chapter
As Cheyrl approaches retirement, she has spent time training and mentoring the billing and accounting department to take over her responsibilities. Teaching people how to do her job has made her realize just how vast and varied her responsibilities are.
If she could turn back time and give advice to her younger self, it would be this: "Don't worry about things until you need to because that's a terrible waste of time and energy. And accuracy is one of the most important things. You need to get it right."
When she retires, Cheyrl plans to continue her lunchtime swims and bike rides. She feels passionate about getting active in the community, perhaps to advocate for our education system, livable wages and Iowa's water sources.
She also plans to spend more time with her longtime partner Matt, and other close friends and neighbors in her condo building, which is a converted warehouse that's home to a bunch of empty nesters like herself.
Cheyrl plans to visit more often with her adult children and their families, which includes two young granddaughters — Olive and Lenora — who live in Nashville and love to have slumber parties with Nana.
"They are super excited to come to Nana's house," Cheyrl said.
Cheyrl leaves an indelible mark on Simmons Perrine Moyer Bergman, and she looks forward to seeing the next era of growth for the firm that became much bigger than she could have imagined back in 1990 when she joined.
"It's a significant law firm in the state of Iowa, and I can't wait to see what they do next," Cheyrl said.
Thank you for your many years of leadership and friendship, Cheyrl.
Good luck to you on your journey ahead.