SPMB Participates in Monarch Research Planting Forward Program
SPMB Participates in Monarch Research Planting Forward Program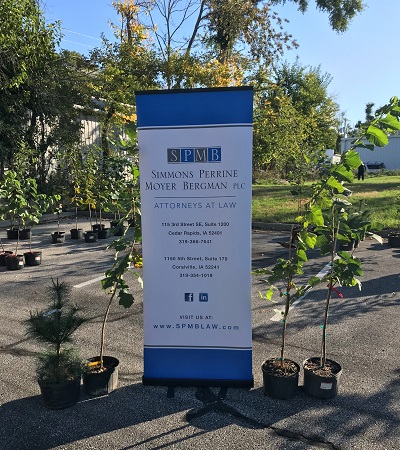 Simmons Perrine Moyer Bergman PLC partnered with the Monarch Research Project (MRP) to purchase trees for attorneys and staff who were impacted by the 2020 derecho. On Saturday, October 16th, 77 trees were distributed to help restore the tree cover in Linn and surrounding counties. Attorneys and staff chose from a variety of high quality trees native to Iowa. All the trees offered serve as habitat to many native Iowa pollinators, birds and wildlife and are core species of Iowa forest ecology.
MRP first distributed trees in the fall of 2020 and again in the spring of 2021, planting 15,000 trees. This fall they have distributed an additional 14,500 trees. More information on Monarch Research Planting Forward can be found at https://monarchresearch.org/habitat/planting-forward/.

###
Simmons Perrine Moyer Bergman PLC is a full service law firm with locations in Cedar Rapids and Coralville, Iowa. For more information, visit spmblaw.com. Questions relating to this article can be directed to Juli Gotto at jgotto@spmblaw.com.