SPMB Commemorates Mark S. Cady Day of Public Service
SPMB Commemorates Mark S. Cady Day of Public Service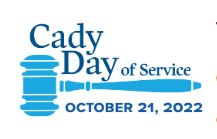 Simmons Perrine Moyer Bergman PLC attorneys and staff provided meals to the residents of St. John of the Cross Catholic Worker House in Cedar Rapids in honor of the Mark S. Cady Day of Public Service on Friday, October 21, 2022.
The Cady Day of Public Service is dedicated to late Iowa Supreme Court Chief Justice Mark Cady. The event brings the community together to honor and celebrate the life and legacy of Justice Cady and his commitment to public service, access to justice, and civil rights.
Catholic Worker House serves married couples, single women, and single mothers for between 30-90 days. Worker spend time with clients identifying any potential barriers and setting goals for the future. Clients stay an average of 17 days before moving on to either permanent housing, transitional housing, or going back to the streets – which for some, feels like their only option.
Learn more about the services of the Catholic Worker House here.
###
Simmons Perrine Moyer Bergman PLC is a full service law firm with locations in Cedar Rapids and Coralville, Iowa. For more information, visit spmblaw.com.