Simmons Perrine Moyer Bergman Thanks our 2019 Summer Associates
Simmons Perrine Moyer Bergman Thanks our 2019 Summer Associates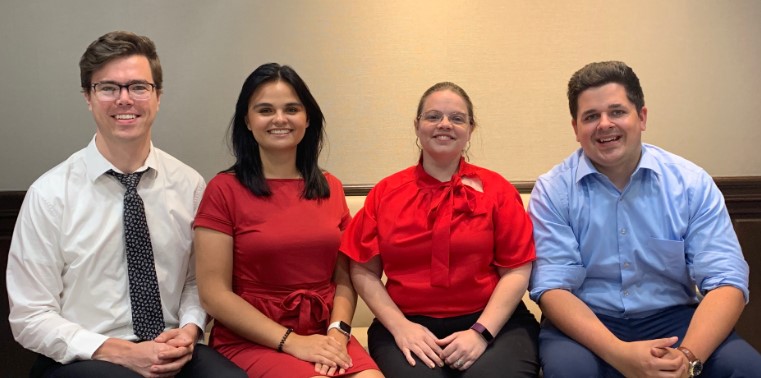 Each year, the attorneys at Simmons Perrine Moyer Bergman PLC invite a group of law students to join the firm's Summer Associate Program. Participants receive hands on experience in multiple fields of law which allows them to learn and grow their skill set before returning to law school in the fall.
In 2019, Simmons Perrine Moyer Bergman hosted four students from The University of Iowa College of Law. Above (left to right): Joseph Porter, Madison Schroeder, Rebekah Jalilian-Nosraty, and Matthew Roth. All of which are 3rd year students scheduled to graduate in 2020.
---
Joseph Porter gained experience in the firm's litigation practice group, which included bankruptcy work this summer. Joseph is from Sioux City and attended Iowa State University before pursuing his Juris Doctorate at Iowa.
"I'm very grateful for a wonderful opportunity to work with kind, experienced, and smart attorneys on a wide variety of interesting cases!"
---
Madison Schroeder spent her summer with the family law, labor and employment, estate planning, and municipal law attorneys. Madison is from Illinois where she attended DePaul University for her undergraduate degree.
"I found my summer engaging, intellectually challenging, and exciting. I particularly enjoyed that I was able to see how my work helped cases progress, and how it had a positive impact on clients."
---
Rebekah Jalilian-Nosraty received experience in the business and corporate transactions, banking and finance, estate planning, and taxation practice groups. Rebekah is a native of Iowa City and attended the University of Iowa where she stayed to pursue her JD from the law school.
"Simmons Perrine Moyer Bergman allows clerks to do real work on issues that matter. I was able to attend trials, assist in client meetings, and contribute on projects that directly affected our clients. It has been a great experience."
---
Matthew Roth worked in the firm's banking litigation, business and commercial litigation, and labor and employment law practice groups. Matt grew up in Dubuque, Iowa and attended Drake University in Des Moines.
"Simmons Perrine is a wonderful place to work. I learned more than classroom instruction could ever teach me. The attorneys and staff are professional, provide unparalleled service to clients, and most importantly, they treat you as a member of the Simmons family."
---