From Defending an Escaped Robber to Defeating a $110 Million Complaint, Steve Holtman Reminisces on 50 Years of Service
From Defending an Escaped Robber to Defeating a $110 Million Complaint, Steve Holtman Reminisces on 50 Years of Service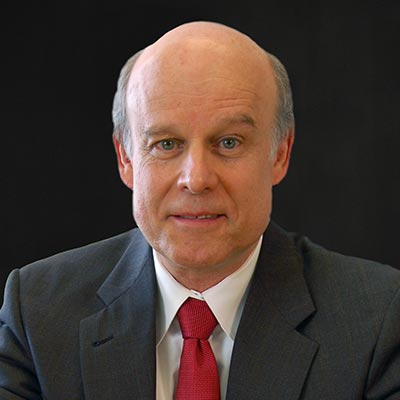 From his early days as a court appointed counsel to major wins in corporate litigation with $110 million at stake, Steve Holtman has distinguished himself with extensive knowledge of the law, persuasive and well-researched arguments, effective legal strategies, and strong values.
Holtman's half a century of service to the profession was recognized by the Linn County Bar Association at a bench-bar event on January 20th. In celebration of the occasion, we asked him to reflect on highlights of his career and memorable cases.
Humble Beginnings
Holtman was raised in Burlington, Iowa, by a mother who was a homemaker and a father who worked at the government ordnance plant that made munitions. Don't ask — some of the work might have involved atomic weapons, but it was classified.
As a child, his first job was delivering newspapers. As he rolled by on his bicycle, Holtman was great at tossing them "just right" toward porches and walkways.
"We would throw it, and hope it didn't break a window," he recalls with a laugh.
Following high school, Holtman made his way from southeast Iowa to his next home in Iowa City where he attended the University of Iowa.
Holtman initially considered a career in medicine after being inspired by doctors who cared for him when he needed surgery at age 8. But while attending college, science and math were a bit of a struggle. Holtman excelled in English, history and other liberal arts classes that eventually steered him toward law.
After earning his undergraduate degree in 1967, Holtman traveled to the sunny state of Florida to attend the University of Miami for his first year of law school.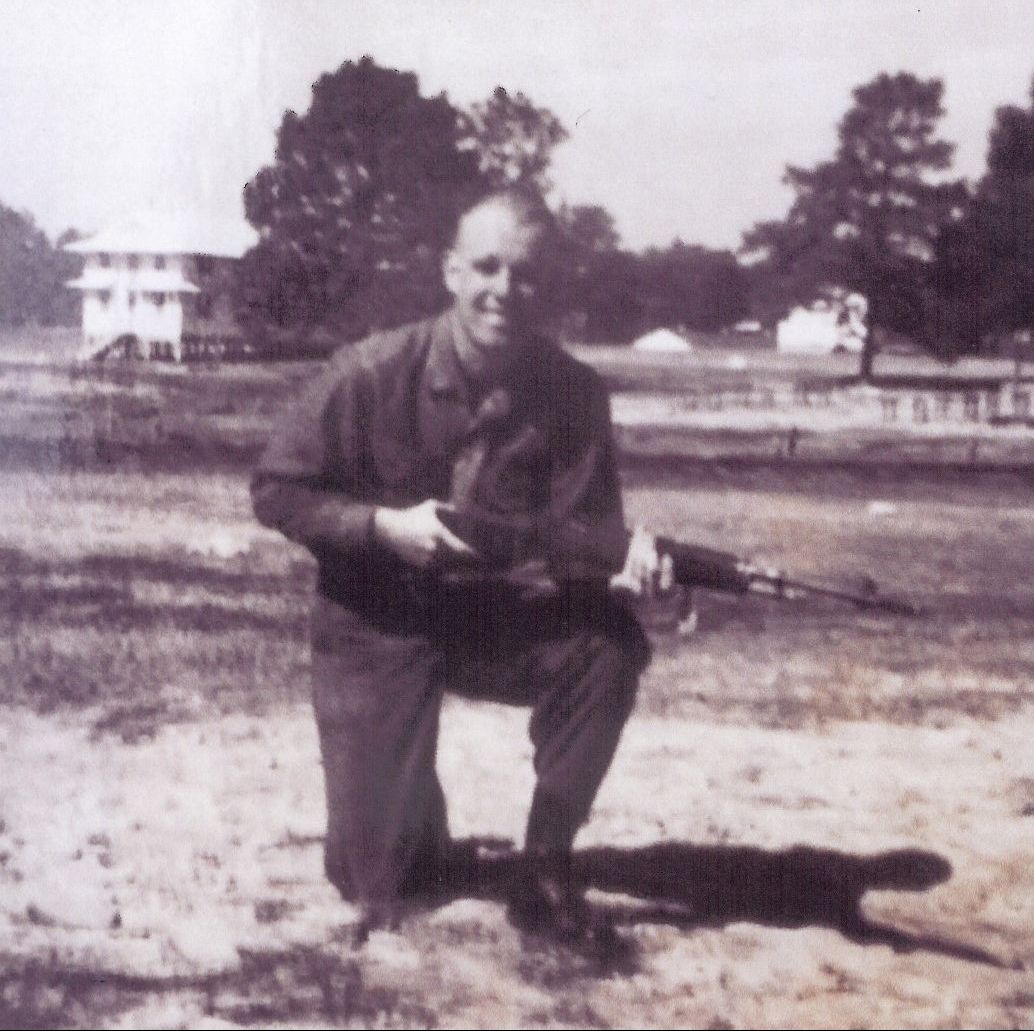 Law School Interrupted
During the first year of law school, he and his peers were aware that they were probably going to get drafted, since it was the height of the Vietnam war. Holtman tested to become a pilot with the Air Force, and he passed with flying colors, but he lacked perfect 20/20 vision in one eye.
Consequently, he served two years in the Army before resuming law school at the University of Iowa College of Law where he graduated in 1972. Holtman then clerked for the Honorable Donald P. Lay, United States Court of Appeals for the Eighth Circuit.
Defending an Escaped Robber
After his clerkship, he joined Simmons Perrine. One of his first cases was a memorable one.
As a court appointed attorney, he represented a client in a preliminary hearing on petty robbery charges and it had gone well, so Holtman was shaken when he got a call an hour later from the Linn County Sheriff's Office.
His client had escaped police custody on the way back to jail and was on the lam. The man was found hiding on the roof of a nearby building.
Holtman had just been trying to convince the judge that his client was a responsible citizen, and that there wasn't enough evidence to bind him over for prosecution. That plan was now toast!
Holtman pivoted his strategy and served the young man the best way he could by negotiating a plea deal. The defendant received a sentence which was probably more severe than he would have gotten without the escape.
The thing that bothered Holtman the most was that he'd met with his client several times and the man seemed honest and sincere, then did something rash that torpedoed the strong defense Holtman had been developing.
"I felt betrayed to a certain extent," Holtman said. "He had done a good job convincing me that he was innocent. I had a heart-to-heart talk with him and he apologized, but we knew we had to plead him out."
Honesty and ethics matter a lot to Holtman, and those values served as a North Star in his legal career for the next five decades.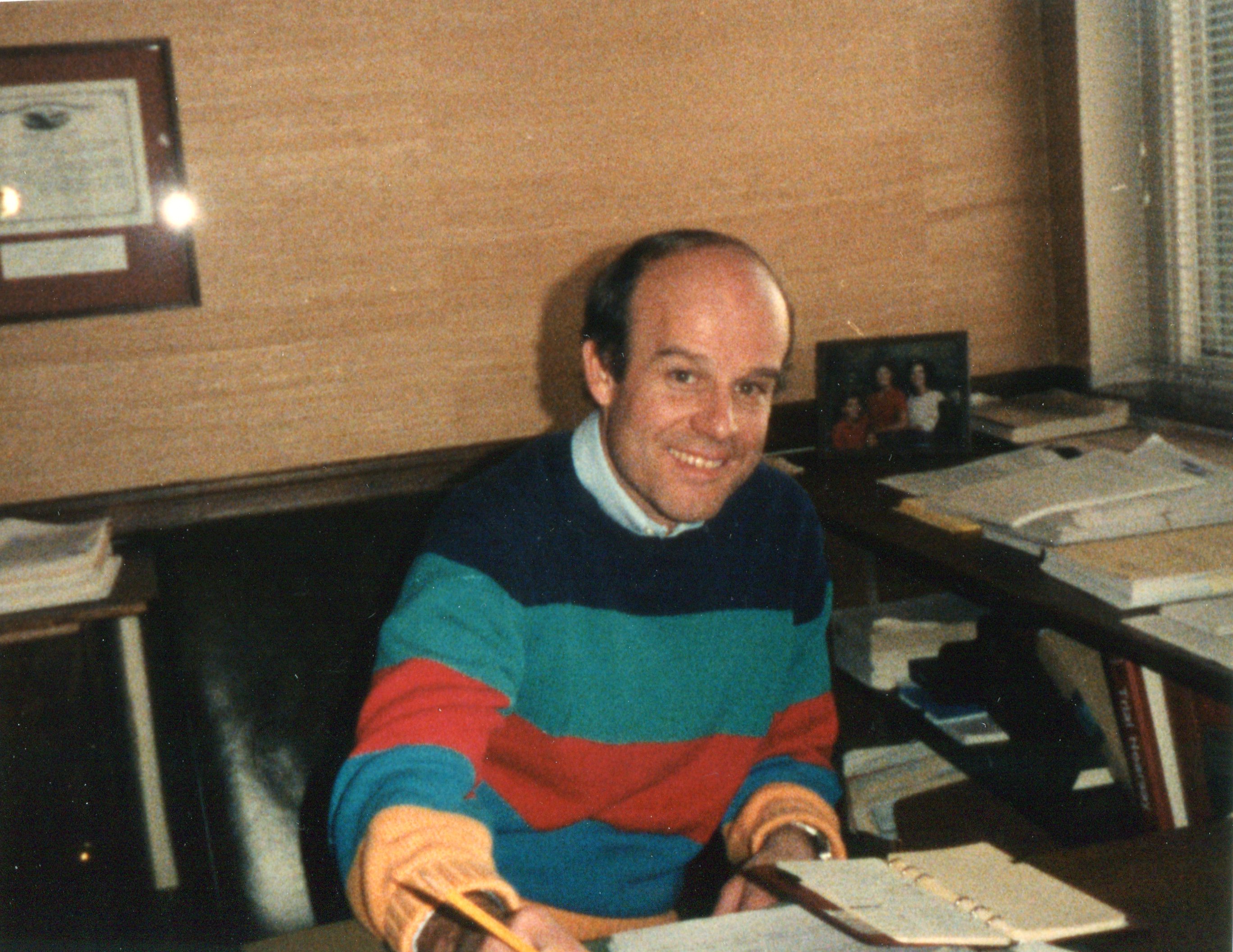 Embracing the Power of Appeals
When Holtman joined Simmons Perrine, there were only about a dozen attorneys at the time.
The firm represented several subsidiaries of Raytheon Corp. including Amana and Iowa Manufacturing Company, and Holtman immediately gravitated toward business litigation such as antitrust, intellectual property disputes, breach of contracts, and other business torts.
Many of the cases Holtman defended set important precedent for his clients.
One of the first major cases he won for a client was an alleged breach of contract case for Amana in federal court in New Orleans. He lost the case, and it was a blow. However, he appealed to the Fifth Circuit Federal Court and argued the case before legendary Judge John Minor Wisdom, whose decisions were required reading throughout Holtman's law school career. (The federal courthouse in New Orleans is now named in honor of Wisdom.)
The appeals court overturned the lower court's finding, and Wisdom wrote the opinion. It became an important precedent in numerous other cases because Amana and Iowa Manufacturing Company used similar contract agreements with distributors throughout the United States. Holtman has deep appreciation for the power of appellate courts, having clerked in the Eighth Circuit early in his career.
"I thought the evidence went in fine, so I was pleased with everything except the final result," Holtman says of the lower court's finding in the New Orleans case. "I had been an attorney long enough to know that the final result is not the end point. I tell young lawyers 'You do not go into trial litigation if you can't accept the loss. You can't get down on yourself — every case is a learning experience.'"
Another trial in federal court in Nashville happened to be one of the first jury cases on the heels of the U.S. Supreme Court's antitrust decision about the "Rule of Reason." The lawsuit involved a terminated contract with a distributor who hadn't adhered to Amana's price points, and Holtman won at the lower court and on appeal in the Sixth Circuit. The case had implications in numerous other states where Amana operated and used similar contracts.
Several Months in California, and He Barely Saw the Ocean
In the fall of 1988, Holtman took a call from Raytheon's general counsel, who was nervous about how preparations were going for a trial in California that was about to start in two months. A Raytheon oil and gas subsidiary was being sued, and the plaintiff wanted $110 million in damages.
The client had a big ask: Could Holtman take over?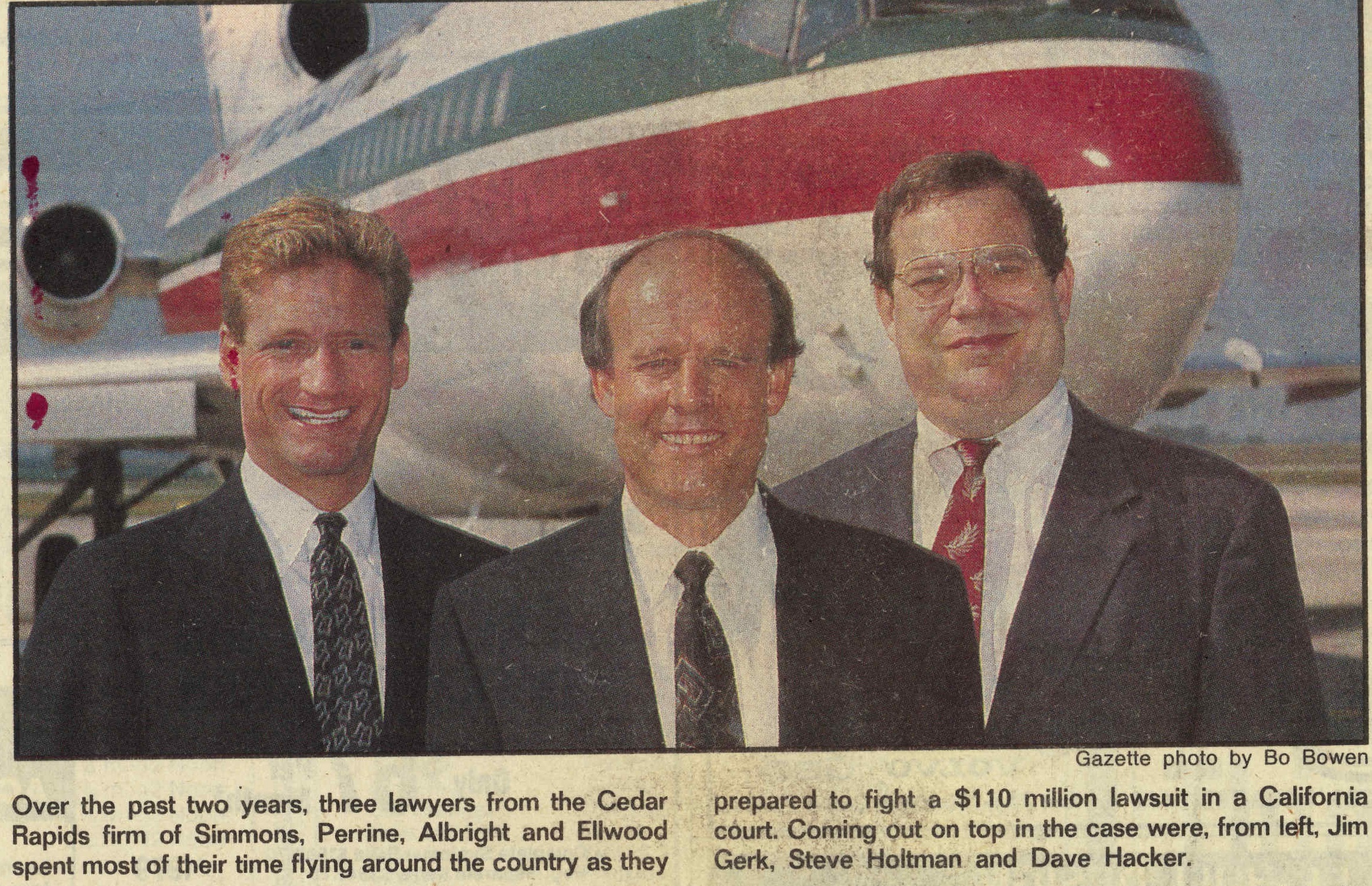 Holtman scrambled to assemble a team including Jim Gerk and Dave Hacker, and they flew to Los Angeles. They took over a conference room at a local athletic club and created a satellite office for the firm, with boxes and boxes of depositions and evidence stacked around them. When they needed help with legal research, they would call back to Cedar Rapids for help and wait for case law to come across the fax machine.
As the team scrambled with the short deadline, Holtman asked the judge for a continuance so they could have more time to prepare, but it was denied.
Holtman and the other attorneys mobilized and worked long hours gathering as much information as they could in the weeks leading up to trial, which was in the plaintiff's hometown with high-profile, big-dollar opposition counsel. The humble group of attorneys from Iowa became something of a curiosity in the halls of the California Federal Court.
The trial lasted about three months, and the jury came back with a $50 million verdict against the Raytheon subsidiary. However, Holtman filed a post-trial motion about flawed jury instructions. The trial court ordered a new trial, so the case was re-tried for another two to three months, and this time the jury returned a verdict in favor of the Raytheon subsidiary. The decision was confirmed on appeal to the Ninth Circuit.
Once the case was over, the attorneys realized they'd spent months and months of their lives in Los Angeles and barely saw the ocean.
"You get into that routine where you get up, go to the courthouse, come back and get ready for the next day. It was high intensity," Holtman says. "After the second trial, my family came out to visit and we saw the ocean together, so that was nice."
A couple weeks after the trial concluded, Holtman received a phone call from a juror who had been impressed by his work in the courtroom and wanted to engage him to represent him in a separate legal matter. He had to decline, but considered it an honor.
Incidentally, five years later the federal judge in the trial reached out and asked if Holtman would write a letter to the Senate Judiciary Committee to support his nomination to the Ninth Circuit Court of Appeals.
"I was surprised that he even remembered me, much less that he would ask a lawyer from Iowa given all the high-powered lawyers that he knew in L.A.," Holtman said.
A Respected Leader
Holtman has spent almost his entire career with SPMB or its predecessor firm, and his roots in Cedar Rapids are deep. In our conversations, he reminisced about his cases and the many people who helped him along the way. Holtman is not one to share that he is a very well-known attorney and has the deepest respect from his clients and fellow attorneys.
Holtman earned partnership to Simmons Perrine in a record 3½ years. He was trusted by the attorneys to serve as managing partner at a very young age and served in that role for many years. He was also respected by attorneys across the state, having been recognized as the top bet-the-company litigator in Iowa several times.
Roger Stone, managing partner of SPMB introduced Holtman at the bench-bar event where he spoke highly of his long-time fellow partner and friend. "He became, in most attorney's opinions, the leading commercial and corporate litigator in the state of Iowa," commented Stone. "He is one of the smartest people and the best attorney I know."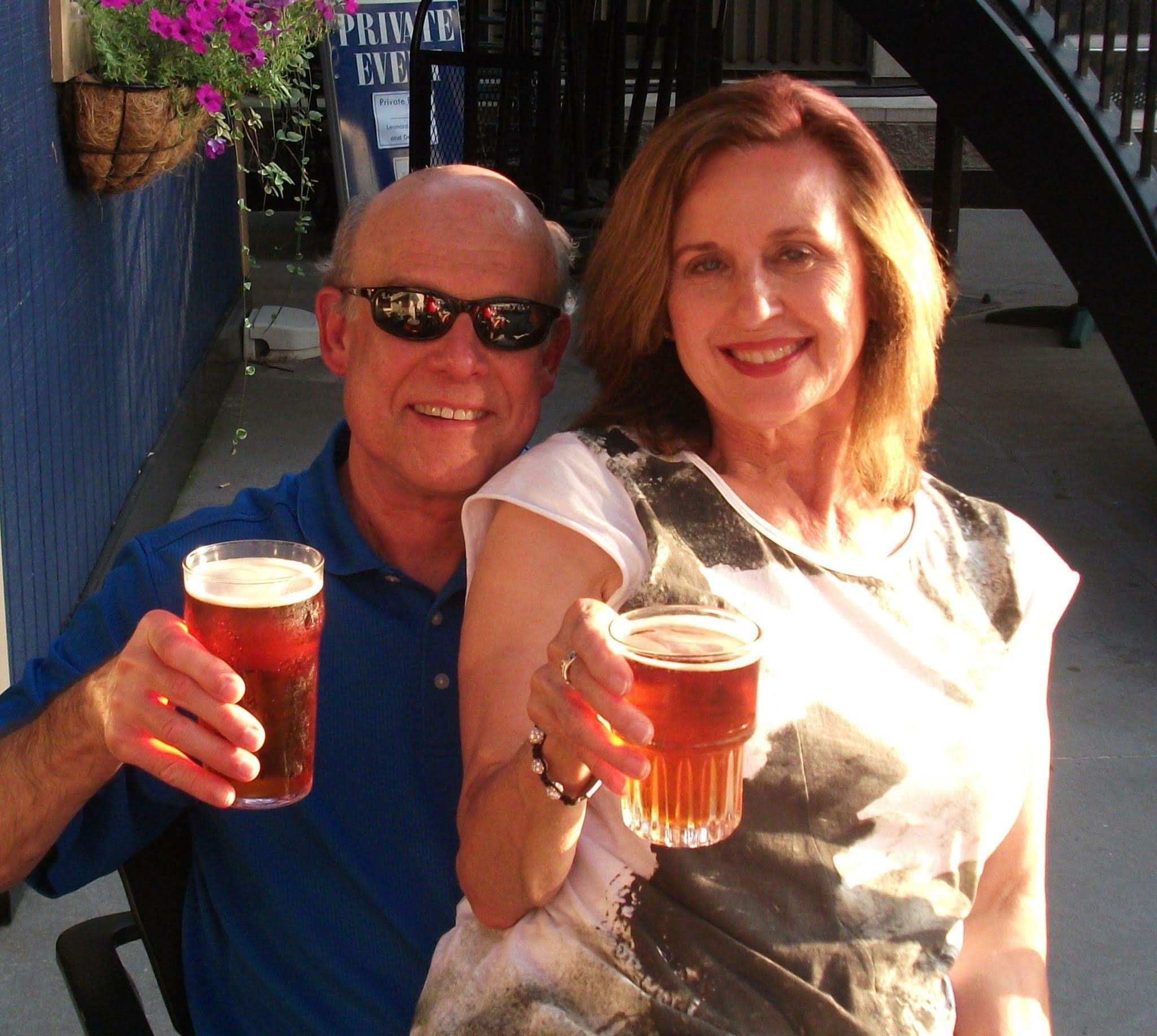 ---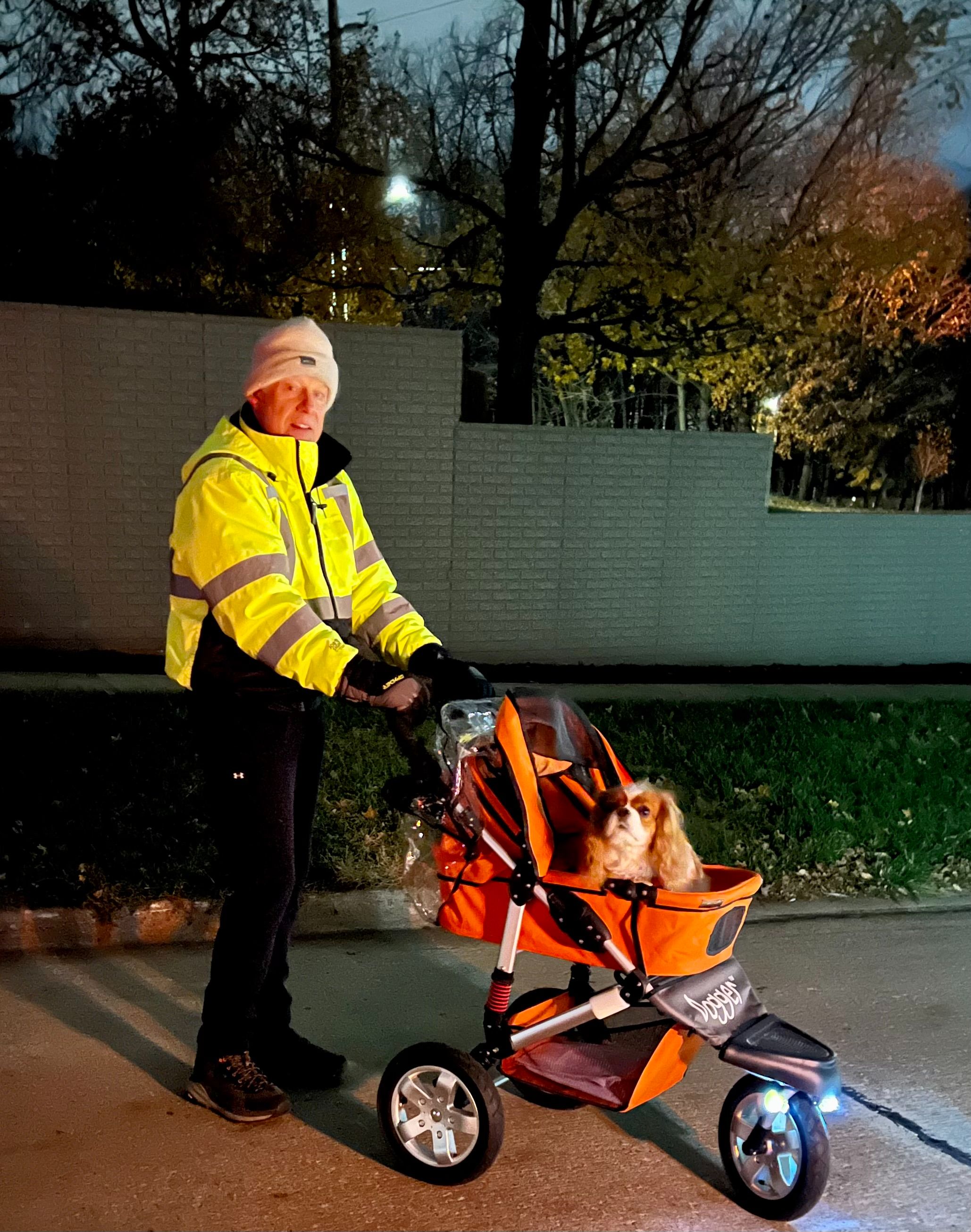 The Support of Family
Steve and his high school sweetheart Janet are celebrating their 55th wedding anniversary this month. They have a son Dan, daughter Laura and two grandsons who live in the area.
Holtman, who was once an avid runner and has participated in many marathons, continues to stay active by taking long walks with his dog Kenzie, a King Charles Cavalier who is partially paralyzed and must be pushed in a stroller. His wife Janet exercises their other dog Lola, an Australian Cattle Dog.
STAYING TRUE TO MORALS AND INSTINCTS
When Holtman looks back on his five decades of work, in addition to all the victories and successful appeals that helped his clients grow their businesses and thrive in competitive marketplaces, the thing he's most proud of is his unwavering commitment to behaving ethically.
His best advice to attorneys who are just beginning their career is to stay true to their morals and instincts about right and wrong.
"The most important thing is your ethical obligations. Once your reputation is stained in any way, it stays with you like a stone around your neck," Holtman said. "There is never a client or case that you have to compromise your ethical obligations for, so don't fall into that trap."

###
Simmons Perrine Moyer Bergman PLC is a full service law firm with locations in Cedar Rapids and Coralville, Iowa. For more information, visit spmblaw.com.
Disclaimer: This information is intended for general information purposes only and is not intended, nor should it be construed or relied on, as legal advice. Please consult your attorney if specific legal information is desired.