AbouAssaly Leads Cultural Trip to Lebanon
AbouAssaly Leads Cultural Trip to Lebanon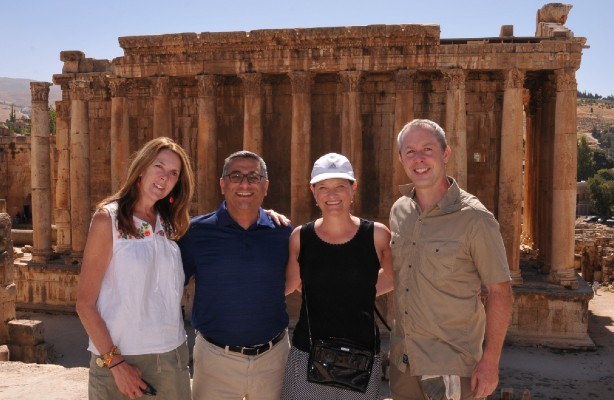 Photo: Temple complex at Baalbek (Roman city of Heliopolis). Left to Right: Lynn Hartman, Nick AbouAssaly, Kathleen Kleiman and Paul Morf.
Featured Attorney: Nick AbouAssaly
Most days, Simmons Perrine Moyer Bergman PLC (SPMB) attorney Nick AbouAssaly is consumed with the recent history of land ownership, title clearance, site surveys and appraisals as he helps clients structure complex real estate transactions.
His talent for tracing the lineage of property ownership and his sharp eye for detail keep him rooted firmly in the present as he counsels developers, landlords, farmers and lenders in acquisitions, sales, leases, capital structures and other real estate deals.
So it's a welcome change when he can peel away for a cultural exchange trip to his ancestral homeland of Lebanon, and introduce others to an ancient and complex history that dates back many thousands of years to the Canaanite and Phoenician eras.
AbouAssaly recently hosted SPMB colleagues Paul Morf, Lynn Hartman and Kathleen Kleiman along with two dozen others for an 11-day tour of Lebanon, where he was born and lived during his early childhood years before his family resettled in the Cedar Rapids, Iowa, area.
During the visit, AbouAssaly led the group on tours of five UNESCO World Heritage Sites, including the ancient Baalbek temple complex, The complex is home to the famed Temple of Bacchus, one of the best-preserved Roman temple ruins that celebrates the god of wine, harvest and fertility. ((Pictured at the Baalbek temple complex, from left to right: Lynn Hartman, Nick AbouAssaly, Kathleen Kleiman and Paul Morf.))
The group spent significant time in Byblos, another UNESCO World Heritage site and one of the oldest continuously inhabited cities in the world with its ancient seaport where the Phoenician alphabet was developed and the heavy trade in papyrus inspired the English word for Bible.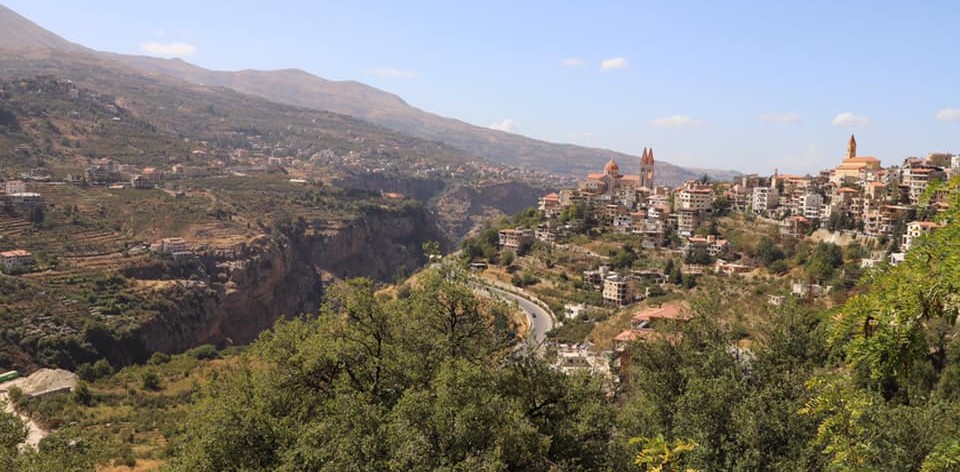 Photo: Bcharreh Village in the Holy Valley- birthplace of Kahlil Gibran.
The group also saw the ancient ruins of the Beirut Law School, a preeminent center of jurisprudence in the Roman Empire, which earned the city its motto, "Berytus Nutris Legum", or "Beirut, Mother of Law."
"As a nation and a culture, America is less than 250 years old and it's easy to forget just how young that is historically-speaking until you visit these ancient lands where civilization and history goes back thousands of years before Christ," said AbouAssaly, a longtime Member of SPMB who joined the firm in 1997.
AbouAssaly's parents moved their family of seven from the Lebanese capital, Beirut, to the Hawkeye State when he was a young child. He has since lived in Iowa nearly his entire life, earning a finance degree from the University of Iowa and a J.D. with distinction from the University of Iowa College of Law. In addition to his real estate work, AbouAssaly also serves as the Mayor of the City of Marion, Iowa, and was recently re-elected to a second term. He is also the cantor at his church.
A Rich and
Ancient History
Bound to the west by the Mediterranean Sea, Lebanon is wedged between Israel and Syria and is one of the world's smaller sovereign states, with just 4,036 square miles of territory — less than one-tenth the size of Iowa.
For many centuries, Lebanon has been an important trading, cultural and political hub among its Arab neighbors. Lebanon was ruled by the Ottoman Empire for hundreds of years before coming under French control in the 1920s through a mandate from the League of Nations. As World War II came to a close, Lebanon gained independence and the newly formed government held elections in 1943 and was one of the founding members of the United Nations in 1945.
Throughout history Lebanon has been a meeting place for East and West and a center of culture and education. It's small size and diversity of cultures and religions frequently puts Lebanon in the crosshairs of regional conflicts.
Lebanon is also known for its stunning geography and gentle year-round climate.
Once called the "Switzerland of the Middle East," about 80% of Lebanon is covered by mountains. Many cities and towns have breathtaking vistas of snow-capped mountain peaks or the sandy beaches of the Mediterranean Sea — or both. Some visitors snow ski and water ski in the same day.
Although Lebanon's history has been shaped by foreign rule, geopolitical strife and civil war, the country's culture remains grounded in democratic rule and a deep-rooted sense of self-reliance, hospitality and a profound respect for its place in history.
"It's such an honor to share Lebanon's breathtaking beauty and complex history with others," said AbouAssaly. "I hope it enriches their understanding of how important yet complicated the region is, and how every action can have profound ripple effects."
Nick AbouAssaly
Member
nick@spmblaw.com
(319) 896-4003