SPMB Attorney Chad Brakhahn Makes CBJ "Forty Under 40" List
SPMB Attorney Chad Brakhahn Makes CBJ "Forty Under 40" List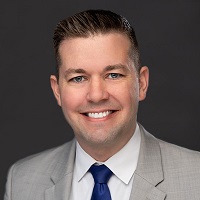 Attorney Chad Brakhahn will be honored at the Corridor Business Journal's (CBJ) Forty Under 40 reception on Thursday, Oct. 20. The CBJ will be recognizing forty young leaders who have made a significant impact in their business and community. Honorees were selected by a committee composed of last year's Forty Under 40. This is the 18th year these awards have been presented in the Corridor.
Chad is a graduate of Jefferson High School. He attended the University of Nebraska, Omaha where he graduated with a degree in business management and political science in 2007. Chad then went on to earn his JD from Harvard Law School in Cambridge, Massachusetts in 2011. He returned to Cedar Rapids where he has established himself as a young leader in the legal profession, a giver to his community and a husband to wife, Stephanie. Chad's favorite role is co-parenting Caden (16), Carter (14), Lincoln (7), Jackson (5), and Jordan (4).
Chad is a litigation attorney practicing primarily in business and commercial litigation, probate, estate and trust litigation, medical malpractice, construction and design law and appellate advocacy. He has been with Simmons Perrine Moyer Bergman PLC since 2011. Chad continues to grow a strong legal practice and has been recognized by his peers through various avenues, including being elected to the Iowa State Bar Association Board of Governors for District 6, and most recently, named Fellow of the Construction Lawyers Society of America. Chad has also been listed as a "Rising Star" in Great Plains Super Lawyers and is recognized on the Best Lawyers in America® list for construction law. He is licensed to practice law in Iowa and Nebraska.
Congratulations, Chad! Well deserved.
For a complete list of CBJ Forty under 40 recipients, click here.
###
Simmons Perrine Moyer Bergman PLC is a full service law firm with locations in Cedar Rapids and Coralville, Iowa. For more information, visit spmblaw.com.